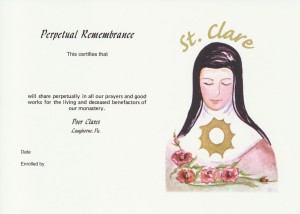 Perpetual Prayer Remembrance Cards are available. These cards assure the deceased or recipient of the card remembrance in the prayers and good works of our sisters.
You are welcome to stop by and request a card, to call by telephone (215-968-5775) to request it for pick-up or to request that we send it directly to the recipient or their family. Donations are gratefully accepted.
We also prepare Spiritual Bouquets on the computer for Confirmations, First Communions and other significant events as requested.