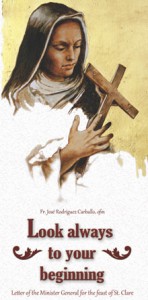 To view the Letter from Our Minister General Fr. José Rodríguez Carballo OFM at the conclusion of the 800th Anniversary celebration 2012, click on the link below:
The culmination of this year's Feast of St. Clare was the Mass offered on St. Clare's day, August 11, 2012.  It marked the 800th anniversary of the founding of the Poor Clares.  In the spring of 1212, St. Clare left her family home to begin her life as a follower of Jesus Christ and a disciple of Francis.
What a beautiful ceremony God gave us!  Bishop Daniel Thomas was the main celebrant, with Fr. Mario Mastrangelo, OFM Cap giving the homily and Msgr Joseph McLoone being the Master of Ceremony.  Concelebrating the Mass were our Franciscan TOR brothers Frs. Cletus, Fidelis, and Jonathan, along with our Chaplain Msgr. O'Donnell and Fr. Graf.   Br. Larry Hilferty, TOR was an invaluable aid to our sacristan.  Fr. Chris Dobson, TOR delighted us with his organ playing, and Samuel, one of the TOR novices, joined us with his guitar.
It seemed everyone in the congregation sang with great joy, from the beginning of the Mass as the Sisters processed in, until the very end.  All in all, it was a celebration that we will remember with happiness for many years to come.  After the Mass, we were able to greet our friends in the Padua Room where we provided light refreshments for them.  We thank God for His gift to us of our Mother Saint Clare and the many good friends who have come to know and love her with us.