Father Paul Zaborowski OFM Cap
for August 8-11, 2023
Currently serves as Pastor of Saint Ambrose Church in Baltimore MD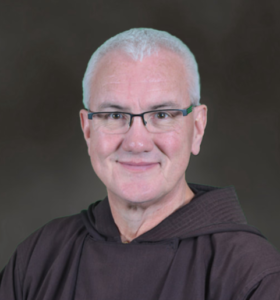 Father Paul professed final vows as a Capuchin Friar in August, 1993 and was ordained a deacon in September 1996.  He was assigned by his provincial to the Shrine of the Sacred Heart, Washington, DC.  He was parochial vicar at Sacred Heart Parish caring for the English speaking African American members of the parish.  He assisted in developing the parish council and various ministries of the parish.  He ministered at Shrine of the Sacred Heart until August 2004. The summer of 2004 he was asked by his provincial to accept the role of pastor at Saint Ambrose Parish, Baltimore, MD.
On August 9, 2004, he moved to Saint Ambrose Friary and on August 15th, Feast of the Assumption, he offered his first Mass in the parish. Since 2004 he has been pastor of Saint Ambrose Parish.  He continues to build up the parish community and strengthen its liturgical and prayer life.
He enjoys gardening, swimming, travelling and taking long walks. He is responsible for his pet parrot, Suzy.